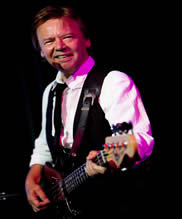 All in all it's an excellent collection of songs, very catchy melodies and very fine arrangements, it also has an excellent production. With all these positive elements it sounds like a classic CD that can be played again and again and still retains that fresh very appealing quality.
Well done Hisa and all who performed with you, it's a work to be proud of.
Regards
David
---
The Worst Band
A great energetic start to A Routine Day. I hear a lovely melody and the bridge section is very strong. The chord structure is very interesting and enjoyable.
Money Game
This is a lively fun song with prominent piano, 'All the fun of the fair' A very strong song, I enjoyed it very much.
A Routine Day
A very strong element to A Routine Day is the superb production and harmony vocals which are so prominent in this song.
Lazy Postman
I love the fun here, and the up and dynamic sound of this song. The acoustic guitar and excellent vocals draw the listener in and it's a songs you want to replay again and again.
Jetty and Ship
A nice little interlude.
Bedsheets
This is really good, and the change of lead vocalist works well, it builds very nicely to a strong chorus.
Deep Blue Sky
Yes, typical Hisa Tanaka guitar and voice, very catchy and accomplished composition.
Spinning Albert
A good rocker
I wanna be a Pilot
Lovely chord progression again, and the multi tracked guitars are very good, I also enjoyed the vocal harmony.
Café Accordion
I love it, the piano and voice intro set up the rest of the song beautifully. The violin is very well played and is perfect for this song.
Message Chair
A very good arrangement for string quartet? And then a clever move to piano and mandolin, or is it Bouzouki? I love the vocals the follow, very strong.
The Lands' End Station
Yes, also very good, I like it.
Goodbye Hero
Wow! You really put a lot of work into your instrument and vocal arrangements Hisa. Very good chord changes and catchy melody.
Night Postman
Ha, it's Django again and into a cool piano and nice relaxing groove, it has good humour too.